Hi guys, I finally got off my butt and started working on a couple projects I started a couple years back. I ended up taking a long hiatus from crossbowery (is that a word?) and pursued various projectile weapons. Mostly longbow making, sampling various woods around my area for suitability etc. and tried my hand at atlatling. I digress however, and left a crossbow I had purchased a prod for which was gathering dust on a shelf as well as the cut out body with parts all ready to assemble. Not really sure why I ended up letting that stagnate, I had started out with a serious desire to get it built. I finally finished said bow a few months back, worked the shape out to something not exactly historically accurate but comfortable to shoot in dense brush and woods like I live in. It was sort of a "carbine" medieval if I would call it anything. Simple roller nut release, oak body and brass hardware. I enjoy shooting that little bugger out in the yard, though it consistently shoots leftish no matter what, pretty sure it's the bow itself just slightly out of whack. I will work on it later though because I found a photo of a medieval sporting bow being used at Warwick Castle and thought it was about the snazziest crossbow I had seen. I love the rounded belly of some of those weapons as well as the cheek rest and decided I was going to reuse an older prod I had lashed to one of my dustier projects. I purchased some nice planks of poplar and a nice strip of red oak at Lowes and started in on mimicking the crossbow as well as I could see from the limited pictures I had seen. I had decided I wanted a longer tickler as well and bought some cold rolled round steel bar stock. I was very pleased with the end result after much MUCH filing and careful bending, ending up with a tickler that suited my taste with a long down swept tail end that tapered nicely. I had also purchased some slimmer poplar slats for widening the lock section and cheek rest, realizing when I got home that had a horrid greenish tint compared to the main body material. I was too lazy to bother returning them though and set about incorporating them anyway, thinking that just maybe they wouldn't look too bad, and if all else failed I could can the entire project and start new for less than $15.  I set aside a couple hours a day to work on this bow, being careful not to work too quickly and foul it through shoddy workmanship. I am glad I did as it began to take shape slowly and I got more excited about the whole thing. The greenish poplar still rankled with me, and I mistakenly ended up with an unsightly gap between a couple sections but nothing catastrophic, just cosmetic. I had a hell of a time working the cheek rest, trying to imagine the bow on side, back and bottom and settled on one similar to Lightly's crossbows I had seen in some photo's she had posted during her work. I simply rounded the off side under to meet the cheekrest following the slope from that side resulting in an appealing looking shape and pleased with the feel of it. In the future I won't skimp on wood materials but overall it came out very nice in my opinion, and I was even more happy that its a pure joy to shoot as well as fairly dang accurate! (When I'm not suffering from shooters flinch  
) I learned a lot on this one, and sharpened my interest in making as much of my own parts as possible from horn steel and wood by hand. I'm not up to prod making, but I'm studying as much as I can find on the subject of it as I can. Any info you guys might have on making a steel prod without needing to mess with annealing and heat treating would be great as I have no access to a forge or kiln. I found some info on crossbow wiki talking about shaping and cutting from leaf springs that makes no reference to softening or hardening the steel, more along the lines of tediously and slowly working it into shape. Anyhoo heres some pics of my crossbow, thought some of you might be able to suggest some insights into improving my skills as I go. I realize this isn't technically a proper replica but I tried to adhere as much as possible to sticking to something period correct outside of the stirrup attachment.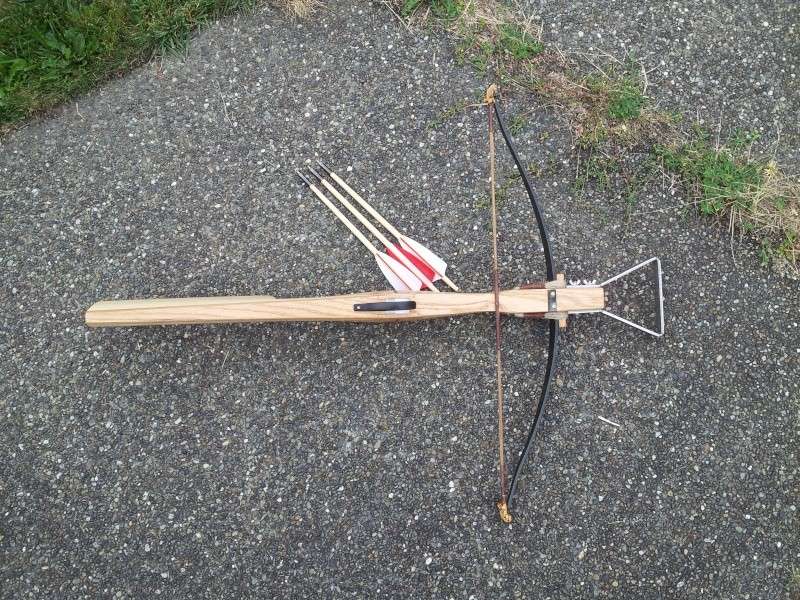 Specifics are poplar body with red oak table (my choice of woods is somewhat limited at the time, I need to find a good place to buy more diverse woods). The prod is an Slobows 110 pounder which probably pulls under that due to my reducing the draw to an inch shorter for security and a more authentic look at full span. I shaped the stirrup from the same type of steel as the tickler and mounted it with some very unauthentic wing nuts and steel screws  
. I just really wanted something that wasn't going to give me any flack while spanning by hand and so far it works like a charm! The string is another one of my artificial sinew makes I am using until I get my hands on some dacron b50 for a more permanent one although I find the sinew string to be pretty forgiving and easy to work with. The nut it just some delrin with a deeply cut groove and steel sear, nothing particularly fancy but it works great for me until I can aquire a true horn nut. The bridle is some inexpensive hemp cordage bound tight with even more cheap thin hemp cordage. It worked better than I had anticipated, its rock solid. I was particularly happy with the horn bolt holder and ramp, took quite a while but once I had completed it I was quite pleased. I had never bent horn before, but after a few trial and errors I got it just right. I'd intended to put a nice little curl in the tip of the bolt holder but decided to work it as seen since it has a nice little inner curve that fits perfectly. I allowed for only screw holding it in place to allow me to slide it to the side for loading and quick access to the nut.  I had forgotten just how stinky that stuff can get, needless to say I ended up spending my days outside working on the horn parts. I had thought of using brass for the sideplates but I just wasn't feeling it and ended up making the diamond shaped red oak sideplates that I cut out and inlaid. There are some mistakes made but overall I was happy with how it turned out and learned a fair bit more to prepare me for my next project! I plan to make another very much like this with a lot more inlay work, hopefully with horn, I love how that stuff develops that mellow softness after lightly buffing. Horn lockplates would look great I think, its just the finding of wide flat sections that has confounded me. The bolts are just simple lightly barreled poplar with 5/16th field points glued on but they shoot rather well. I had made four but managed to "robin hood" one the other day 
 . Anyway I would appreciate any feedback/constructive criticism/advice! Thanks for taking the time to read what seems to have turned into a short story...