Hello Everyone,
Brand new here and want to thank everyone for all the useful information. My crossbow was built with the knowledge from this website and the wiki it links to on the right side so thank you for that. Please excuse my lack of knowledge in regards to terminology I will try to get everything right but still pretty new to this whole world.
That being said I have been toying around with this project for some time now. I started out with a couple wood prods that would toss a bolt like a soft ball pitch. The firing mechanism worked well though so that was pretty cool. 
I just "upgraded" to a leaf spring prod that I got the dimensions for on the same wiki.
http://crossbow.wikia.com/wiki/Plan_for_a_simple_leaf-spring_prod
My layout was just a hair smaller (first metal prod and I was very nervous) and I also have a much shorter draw length (only about 10"). I was hoping to get in around 100# draw weight (website estimated roughly 150# off the layout and roughly 15" draw length) but it ended up coming in around 65#. 
I have it braced at just under 4". 
Couple questions:
Will it stack up that much weight in the last 5" or so of draw or am I missing something?
Draw length is measured from the back of the prod to full draw and power stroke is measured from string at brace to full draw (sorry if I am butchering the crossbow speak)?
I have read that when cutting out the prod you have to watch heat so you don't effect temper... Well I read that after I went to town with my angle grinder. I went really slow since I am not really comfortable with the angle grinder but that being said I never quenched the metal or gave heat a second thought. Could I have messed something up here?
With the increase in weight the nut has stripped out on the bottom were the trigger catches. I am thinking of replacing this with an Oak nut and reinforcing it with a strip of metal. Am I on the right track or will this just strip out same as last? (I think the last nut was left over poplar dowel from a closet that wasn't reinforced at all)
Well with that all being said (and hopefully I get this posting right) here is a picture of my work in progress.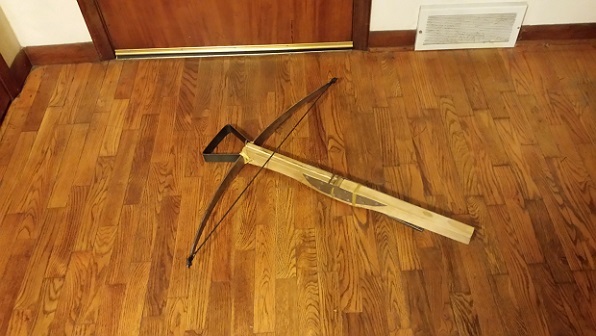 " />