This is a bow that I have been working on for several weeks now in my spare time, its modelled on the spanish/maltese crossbows, but a bit stubbier. I really liked the slender stocks, I only wish my skills were a bit sharper with inlaying and brass work. I decided to keep it simple though, and made my best effort to make it a solid usable bow. I was aiming for something that suited my needs, aka target shooting for fun, so its not a replica in any way. It is however what I had wanted, and that seemed enough for me, I enjoyed the making of it a lot!
Its a 100-110# prod from Slobow, I was satisfied with the purchase, it seems well finished and tillered. The tiller itself is red oak, with brass lockplates. The nut is delrin, as I have a lengthy rod of that material. I really liked how the nut turned out, its more like the originals than any other I had made. Someday I'll have to try antler, when I have a lathe. I know the tickler isn't traditional in regards to spanish crossbows of the kind I was mimicing, but it does the job and doesn't look to shabby to my eye. Next time I make another crossbow I intend to make it more faithful to the maltese crossbows posted on this site. those ones are definately some sleek looking things!
I still need to work on the finish, such as polishing the brass more to remove residual scratches, and perhaps some fine tuning of the prods angle, it seems to me to have a hair too much string drag. I had some issues with inlaying the brass, I think I need to work on my chisel work. I filled in a couple spaces with wood glue mixed with oak dust, if you dont look too close it isn't horribly noticable, but I find myself getting more perfectionistic the more I work at it, and it bugged me a lot when I realized I had trimmed out too much wood initially. I also learned a lot about brass work here, such as you don't just grab a metal bit and go to town unless you want to watch that drill bit suck itself into the work... After some googling I realized I had needed to flatten the cutting edge for brass. Yay for learning the hard way!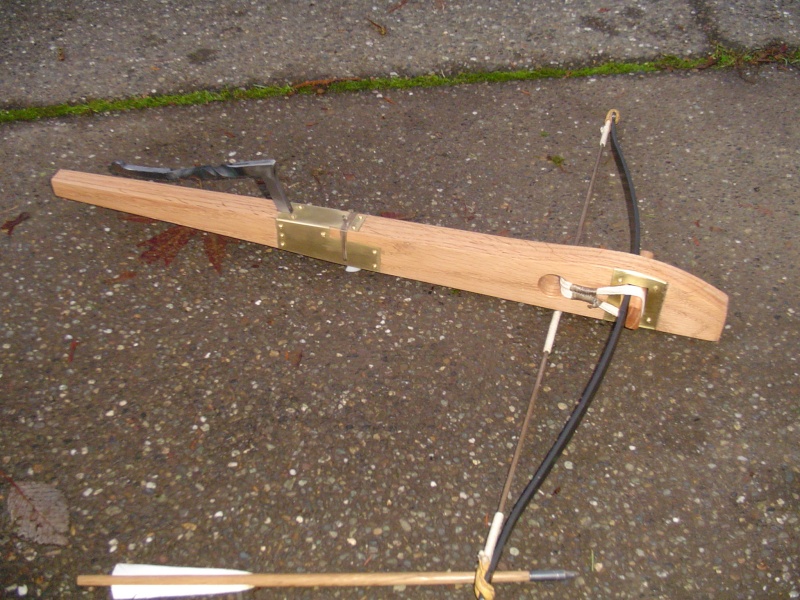 Sorry about the blurry pics, I'm still trying to get used to my new camera.