Hi Guys,
Here are a couple of pics of my first crossbow. An all-wood Skane Lockbow type design.  I have a fair bit of experience with making longbows - and I suppose this is a typical crossbow made by a longbowyer.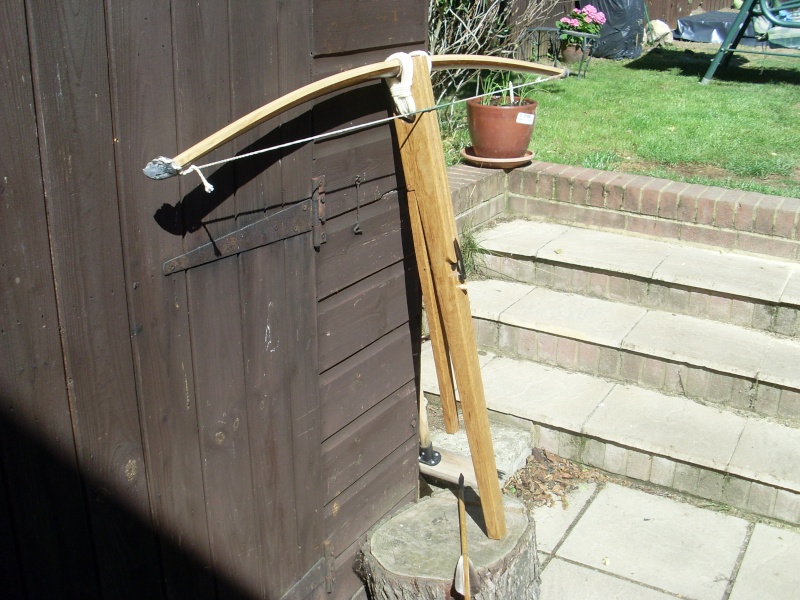 The prod is made from hickory backing on an ash core with an ipe belly.  It originally came from a longbow that was not 'working out', so I cut it down and remade it into a prod 50" long.  The tiller is made from white oak.  Draw length is 15".  It shots quite well and prefers heavier bolts - 1/2" oak with a bodkin work best.  It does not like lighter bolts made from old field arrows (11/32" POC) and vibrates and is noisier with them - so I prefer not to use them.  It will send the oak bolts a good 200+ yards and is fairly accurate - most innacuracy coming from me.  Draw weight is 150lb - so it is quite easily hand-spanned, and is a big beast.  I would like to have a go at a more compact (and more powerful) steel prodded late medieval crossbow next. 
For this bow, I originally intended to use a self-yew prod from a broken yew warbow but that did not work out - nocks broke off!