I finally found some time to expose my latest in-work project, I would be interested to read any observations, criticisms or suggestions.
My design criteria were : 1) useable indoors, with no shoes on 2) burst shooting rate of at least 15 per minute 3) at least 6 shots before reload 4) powerful enough to stop your average zombie in his tracks.
I was very happy with my 150lb fibreglass bow, so my first thought was the 80lb version. However, a single 80lb bow (Cobra types) looked too feeble for criterion 4). So, why not twin 80lb bows in a compound configuration ? (I have since seen that Gnome did exactly the same thing https://thearbalistguild.forumotion.com/t1124-pseudo-compound-pistol-slurbow#10401).
To obtain a high firing rate, my plan was to reload without moving my hands from the firing position. To achieve this, I decided to make the entire trigger/grip block moveable. The tiller is composed of two planks separated by 1/4" in which the trigger slides. Two recessed drawer sliders are used as the basis of the trigger/grip module. It was something of a challenge to design the trigger using the available in-line holes in the slider, but I think it turned out OK.
So this is how it works : there are two grips, a forward one, just below the bows, and the pistol grip.  The trigger is pushed forward until it is armed by the tension of the braced string. The grip is then pulled back until it engages in a catch/hook at full draw. After shooting, the grip is pulled back and tilted down to disengage from the catch, and the cycle can recommence. The action in all is very similar to that of an archer.
Here are a couple of photos which should make things clearer.
Armed position :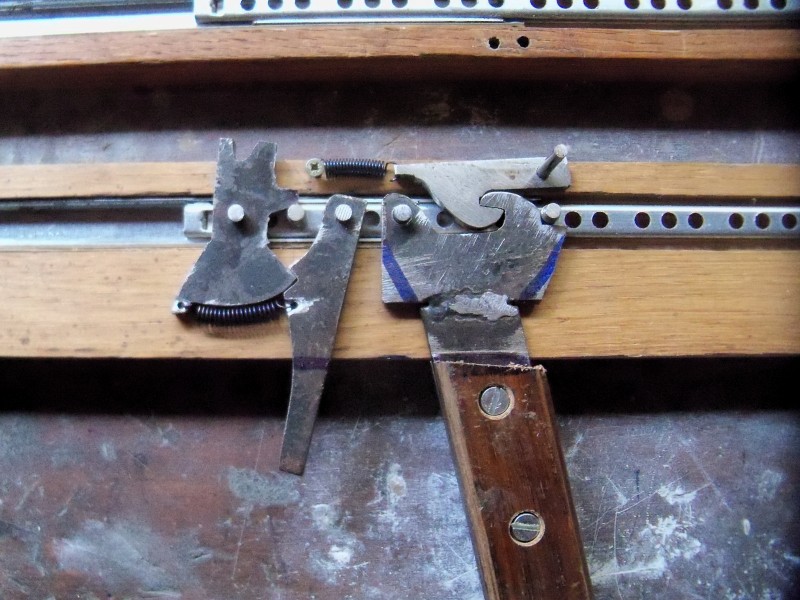 After firing, disengagement from the catch :