Cheers,
I'be been thinking, on-and-off for the last 35 years or so, about building a small crossbow, guess this was triggered by a souvenir xbow from San Marino ages ago...
Anyway, the direction my mind is currently wandering is sort of inspired by the "Twinbow".
Being the first build I naturally started off with the fun parts without having a clear picture of the final design.
I used some discarded kitchen drawer handles I had lying around, they act as the stock and arrow rest, with a classic roller nut as release.
Tried it out with some rubber bands and everything seems to work fine (with that comparatively low load).
I'll assume the twinbow is familiar enough - since my draw is pretty long for such a short bow I'd like to add some kind of compound system - however since pulleys are a bit pricey for decent ones I was thinking of doing a POC using posts instead of pulleys.
Any ideas as to how much this will affect performance? (hence the thread title)
Build so far: Total length 32cm, probably using 30cm prods from spring steel 2.0x35mm (tapered ends to 15mm), riser fixed in the middle approx where the trigger is.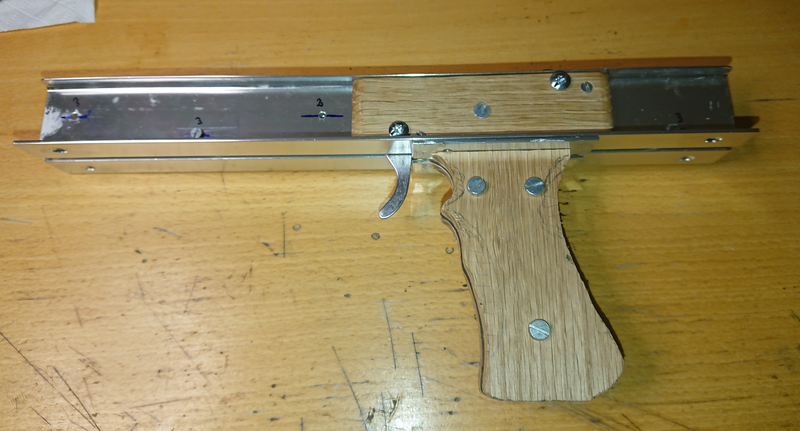 Am I way off in my thinking below, about 24cm draw giving roughly 4cm flex per prod end?
Prods almost straight at rest, middle post/pulley on the fixed riser. My thinking is that string would be approx 165cm total, draw 24cm should "consume" 50cm forcing the posts closer, so at each "crossing" the string needs to be (50/6=8 ) cm shorter, = 4cm per prod end. Good/Bad thinking on my part?
If so, it should suffice fixing the prods approx 6cm out from the body, keeping the width at 17cm.
However, that might be bad due to "compound angle" being too steep - thoughts?
BTW, that's the brass posts in the pic, threaded through with M4.
Any thoughts or feedback welcome //M
Last edited by Mooki on Thu Mar 21, 2019 6:00 am; edited 2 times in total (Reason for editing : Edited title to better reflect contents)